Resources to Unlearn, Rethink & Refocus
Below is a summary list of resources for a deeper dive into our topics. Many of these are also referenced elsewhere on the website, but they are listed here in one place for your convenience. 
Hunger, J.M., Smith, J.P. and Tomiyama, A.J. (2020), An Evidence-Based Rationale for Adopting Weight-Inclusive Health Policy. Social Issues and Policy Review, 14: 73-107.
Pausé, C. (2017). Borderline: The Ethics of Fat Stigma in Public Health. The Journal of Law, Medicine & Ethics, 45(4), 510–517.

Debunking the junk science behind health fads, wellness scams and nonsensical nutrition advice.

Conversations about how we dismantle diet culture and fatphobia through parenting, health and fashion.

Learn how to interpret weight-centric research for yourself and bust myths about body weight and health.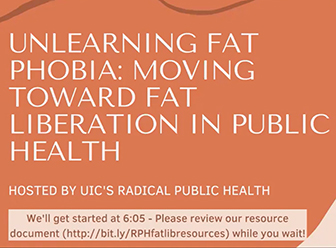 Panelists shared their experience and knowledge of the historical relationship between weight, health, and medical care; fat phobia within academic and public health; and connections between race, gender and body size. Panelists: Marquisele (Mikey) Mercedes (she/her), writer and doctoral student from the Bronx, New York; Monica Kriete, MPH (she/her), researcher and writer; and Harriet Brown (she/her), Professor of Magazine, News, and Digital Journalism at Syracuse University.
INSTAGRAM ACCOUNTS TO FOLLOW
Have a favorite resource?
Being a part of the Fat Justice Journal Club has shown me that fat justice is an important and underrepresented component of social justice. As students of public health, we need to be aware of how fat stigma creates health inequities and how body liberation can help reduce those inequities."
—Jessica Kilinski, MPH Student